WHO WE ARE
THE TEAM
Gravity Jack has one, client-minded mission: Creating The Future Experience™. Specializing in mobile apps, augmented reality, virtual reality, Web3 services, and more, Gravity Jack helps some of the world's most innovative brands and government agencies create a world where technology and the human experience intersect seamlessly. We are an intimate team of scientists, engineers, designers, and marketers with a genuine passion for what we do every day.
As pioneers in the industry, our years of experience have provided valuable insight into the best practices that are focused on client communication, establishing clear project goals, and a timely delivery of the final product. All projects at Gravity Jack follow an agile project development process that allows us to adapt to the project requirements. It's these standards that have led Gravity Jack to be recognized as one of America's most entrepreneurial companies in 2016, 2017, & 2019 by Entrepreneur Magazine.
WE ARE TECHNO SOOTHSAYERS
FOURTH DIMENSIONAL INTELLIGENCES
HIGH FLIERS AND SKY DIVERS
WE ARE CREATING
the future experience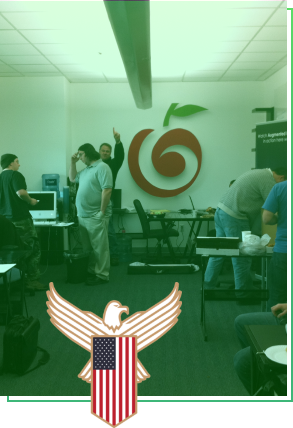 THE BEGINNING
Founded in 2009 by Luke and Jennifer Richey alongside Terry Hoy, the trio started Gravity Jack with the vision of creating a software company around a then-infant technology called augmented reality. Leasing a small, single office in Liberty Lake, the team began offering fully-custom software development services, ranging from mobile apps and websites to custom algorithms and hardware solutions.
The name Gravity Jack is both a nod to where we've come from and a reminder of how we approach each and every day. Our founders are skydivers ("Gravity") and their passion for challenge, excitement and 'pushing the envelope' mirrors the way we go about all we do. Jack was our founder's grandfather. He was an Army / Navy golden glove boxer – a tough, hard working and 'outside the mold' guy (with some great tattoos). Despite his grit, Jack was unashamed to stand for what was right, regardless of the consequences. It's an ethical cornerstone that we live by in the way that we go about our work, our relationships and each other.
GROWTH
Since being founded in 2009, Gravity Jack has grown into one of the most respected digital agencies in the world, offering fully-custom mobile apps, augmented reality, machine learning virtual reality, computer vision and more experiences to a wide and ever-growing range of Fortune 500 companies, small agencies, and sectors within the US Department of Defense. During this period of growth, Gravity Jack's development expertise has led them to become a preferred developer by both the Vuforia and 8th Wall platforms. This growth in capabilities also meant growth in team size. Gravity Jack eventually outgrew their office space in Liberty Lake, WA and moved the office to their current location in downtown Spokane, WA.
RESEARCH AND
DEVELOPMENT
In addition to creating custom experiences for clients, Gravity Jack saw a promising future for mixed reality (augmented and virtual realities). With innovation in the space limited primarily to Europe, the team saw an opportunity to lead the front in the United States. Extensive research and development was bootstrapped by revenue generated through the commercial software development side of Gravity Jack's operations. This work has led to generating a portfolio of awarded patents in the AR and computer vision space. Gravity Jack continues to invest into research and development in order to stay aware and ahead of the latest developments and best practices across a variety of technologies.
INDUSTRY LEADERS
As the first digital agency to offer augmented reality as a service, Gravity Jack has come across a lot of firsts within the industry. These milestones over the years have brought experience and insight into what works and what doesn't when it comes to custom software development. None of this would have been possible without the amazing clients and partners we have worked with from the very beginning. The passion clients have for their projects carries over into the development process for Gravity Jack. Wether your project is a first our not, we want to hear all about it! Contact us at hello@gravityjack.com and a representative will be in touch shortly.
1st to create
an AR toy
1st to create
an AR Browser
1st to create
a 3D engine for AR
OUR PROCESS
Gravity Jack follows a rigorous process to bring your project to fruition, although it may not include all the steps listed here.
Project Management
A project manager will be assigned to coordinate efforts across these different phases.
Scoping & Adjustments
Changes may occur during the process and will require a reevaluation of the time and cost.
OOUX
A process of identifying and organizing content.
SITE MAPPING
Laying out the flow and new hierarchy of the site.
WIREFRAMES
Planning the rough layout and structure of the site's pages.
STYLE TILES
Quickly identifying the design styles to be used for the website.
UI DESIGN
Applying the styles to the wireframes to achieve the final design.
USABILITY
Testing the site with users to understand if our design and UX decisions work.
DEVELOPMENT
Building the website with modern coding techniques.
QA
Identifying and fixing any bugs in the code on multiple devices and screen sizes.
SEO
Making sure the site is set up for proper Search Engine Optimization.
LAUNCH
Setting up your site on a hosting service or packaging up the code and handing it over to you!
Trusted by
"We tasked Gravity Jack to push the boundary of hardware/software limitations to bring the all-new Lincoln MKX to life. The campaign is something we are all very proud of and would not have been possible, without the dedication from the Gravity Jack team."
Executive Creative Director & EVP, GTB